Molongui Authorship plugin works great with just about every plugin and theme, and especially with the most popular ones. However, some plugins are incompatible with Molongui Authorship or they might cause some functionality from Molongui Authorship not to work as expected.
Here we listed the known plugin conflicts with Molongui Authorship and added an alternative to almost each of them. If you experience compatibility issues with other plugins please let us know about them.
Conflicts With Third-Party Plugins
Jetpack
ISSUE: Wrong byline displayed for guest and multi-authored posts on subscription e-mails.
CAUSE: Subscription e-mails are sent from WordPress.com servers and not from your own WordPress installation. To build those e-mails, Jetpack gets data from your site without taking WP core filters into account, thus ignoring author configuration you set on that post.
FIX: Because of how Jetpack works (see explanation above), there is nothing we can do. There is an opened request here so that Jetpack takes into account filtered data. Let's hope they consider implementing it soon.
tagDiv Cloud Library
ISSUE: Post byline displays wrong author name for guest or multi-authored posts on category archives/listings.
WORKAROUND: Because of how the tagDiv Cloud Library plugin is coded, there is little we can do. So if you want to use both plugins, the only workaround we can think of is to edit the category template you downloaded to make it not display the post byline ( author name). We know that's not a solution, but it is the best we can offer. We've reported this issue to the tagDiv Team, so let's hope they can help us find a way to make both plugins fully compatible.
WordPress Popular Posts
ISSUE: The author name displayed on the list of popular posts is wrong. It displays the name of the author of the current post.
WORKAROUND: Because of how WordPress Popular Posts is coded, there is little we can do. So if you want to use both plugins, the only workaround we can think of is to configure that plugin to not display the author name. We know that's not a solution, but it is the best we can offer. To do so, just go to Appearance > Widgets. There, go edit your WordPress Popular Posts widget and uncheck the "Display author" checkbox under the "Stats Tag settings" section.
Guest-Author
This plugin is not listed on the WordPress Plugin Repository, but on GitHub. It allows you to add a post author without the need to register them as users in your site, so there is no really need of it when using Molongui Authorship Plugin, which already has that feature.
ISSUE: Author archives display every post rather than only those authored by the user being displayed.
WORKAROUND: Disable (and uninstall) Guest-Author Plugin. Molongui Authorship Plugin already features a guest author functionality, so there is no need to use another plugin for that matter.
Conflicts With Themes
Uncode
ISSUE: Guest author archives don't list any post and it shows a "Nothing found." message.
CAUSE: Uncode overrides the query when using a Content Block other than the default one on archive pages. So it looses track of guest posts and they are not shown.
WORKAROUND: Select the default template for the content block used on author archives. To do so, go to "Uncode > Theme Options > Archives > Authors" and select the option "Inherit" for the setting "Content Block" under the "Content" section. See screenshot below: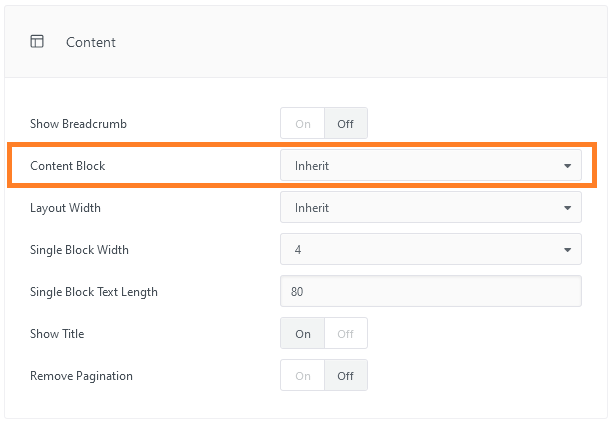 Creativo
Creativo theme filters the 'add_metadata' function so there cannot be any post meta with the same key, not allowing non-unique keys. Which is required by our plugin and many other.
ISSUE: When adding multiple authors to a post, only the first and last ones on the list are saved.
FIX: We have already reported the issue to Creativo theme's developer team and they confirmed us that the issue will be addressed in the next update. Latest theme version 6.5 still has issue unfixed. If you face this issue, please contact us and we will apply a patch to temporally fix it until they fix theme's core.
Conflicts With Persistent Object Cache
What is Object Caching?
Object caching involves storing database queries so that the next time a piece of data is needed, it is delivered from cache without having to query the database.
Why Persistent?
Object caching is more powerful when it can be used to cache objects between multiple page loads.
What's the Problem?
It can cause some unexpected issues, like displaying wrong author names or data, particularly on guest or co-authored posts.
How to fix?
Issues with Object Cache can be easily resolved by excluding Users object from persistent object cache. Some web performance optimization plugins, like W3TC, offer an option to exclude specific objects to be cached on persistent object cache. However, object cache exclusions might not be available when object cache is provided by your hosting, like WPEngine. In such cases, and if you are experiencing issues, we recommend disabling object cache.