Description
What is an Order Bump?
An Order Bump allows you to display supplementary discounted products on your checkout form. The customer can take the offer with just one-click, adding the bumped product to their order without leaving the order form.
Bumped products are typically products or offers that complement the original product being purchased. They are often priced at smaller price points than the initial product. The catch is to make it a special, one time, price.
Think of it as "you're already buying the pasta… add now the sauce for just $1 more"
You can configure Order Bumps for any of your existing products or product categories. By choosing an offer that matches the product and a price point that makes it nearly impossible to say no, you'll have a winning combination to increase your revenue.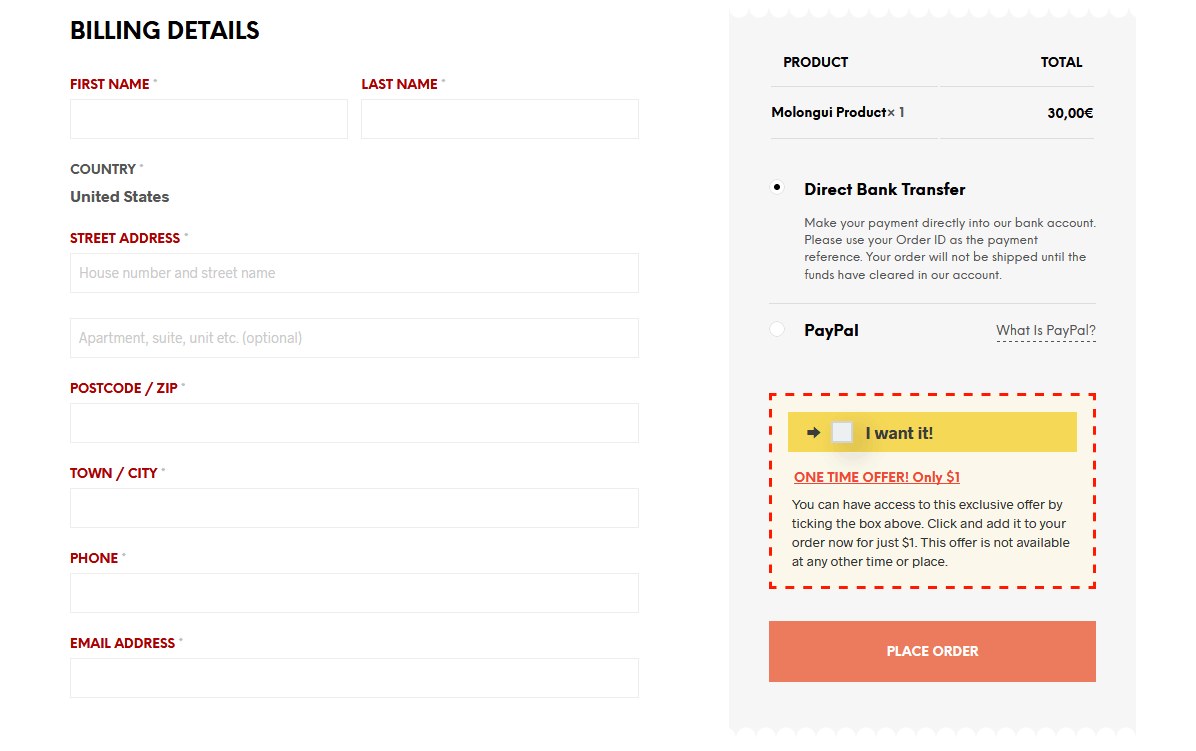 Features
Selectable product to offer.
Configurable discounted price.
Fully Customizable Texts.
Fully Customizable Styles: colors, spacing, line styles, arrow icon, border width…
Ability to make the arrow on the bump blink to catch client attention.
Ability to add an image into the bump, just below the text or instead of it.
Automatic addition: Add the offer to your client's Cart. No client action needed!
Ability to not display the Order Bump if the offered product is already in the Cart.
Conditional display based on Cart contents and value.
Conditional display based on a date schedule.
Conditional display based on Cart products.
Conditional display based on Cart categories.
Configurable display conditions criteria.
Configurable display page: Checkout, Cart or on both.
Configurable display location: above/below customer details, above/below Cart, above/below order details…
Accepts third-party shortcodes. Display whatever within the Order Bump.
Responsive design, mobile ready layout.
Live preview on Order Bump edit screen.
Multiple Order Bumps: Create as many as needed, display more than one on the same page.
WooCommerce compatible, of course.
Compatible with simple and variable products.
Compatible with "multi-step checkout page" plugins, as long as they add WooCommerce's hooks (most of them normally do).
Premium support and outstanding assistance.
How to Get Started (in 5 minutes or less)
Buy this plugin :-)
Download and install into your WordPress site.
Go to "WooCommerce > Order Bumps" menu item and create a new Order Bump.
Edit the bump selecting the product you want to offer, setting the discount price, adding an attractive message, customizing the box styles and configuring where and when to display it.
That's it! Sit back and see your average cart value dramatically increased!
Got doubts?
Still not sure whether Molongui Order Bump Premium is just what you need? Really? Go ahead and buy it!… nah, just kidding! Check out the documentation and ask us anything you want to know to make sure Molongui Order Bump Premium is the answer to your needs. We are pretty sure it is!