If you run a WordPress blog or business site, putting a face to your content can help visitors feel more connected and engaged. One simple way to accomplish this is with an avatar, an image that represents you across your website. An avatar makes your site feel more personal and helps users know you better as a person.
WordPress integrates with Gravatar to provide its users with avatars. Gravatar is a platform that lets users upload an image, then use that image as an avatar across different websites. WordPress Gravatar images appear alongside posts, comments, or other website activity.
However, this default solution isn't for everyone. You might not like the idea of creating a separate account on another site just to add a profile image. Also, if you want to change your Gravatar settings, you can't do so from your WordPress dashboard.
The Molongui Authorship plugin allows you to use an image straight from your media library as an avatar, or otherwise change your avatar display.
You'll see a new avatar upload field added to user profiles. It's possible to make any photo from your media library into your avatar.
Configuration
The Local Avatar feature by Molongui Authorship is an addition, not a replacement. Meaning that you can make use of custom images but also Gravatars as user avatars.
So you can configure Molongui Authorship to retrieve users avatar from your media library. But if none is found, make it check on Gravatar for an associated avatar.
You can find all avatar-related configuration in the WordPress Customizer:
Go to: Appearance > Customize > Molongui Author Box
Click on the Avatar menu option
There you go!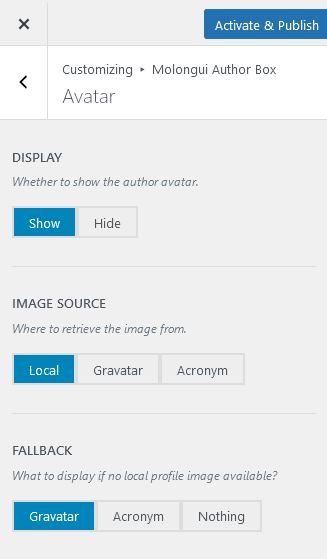 Image upload
To upload a custom image as user avatar, just go to the edit-user screen. There you will see a new avatar upload field. It allows you to pick an image from your media library or upload a new one.