An author box, also referred to as author bio box, is a small section where you can display information about the post author, show their picture, social media profiles, and more.
And as a picture is worth a thousand words, here you go a screenshot of an actual author box: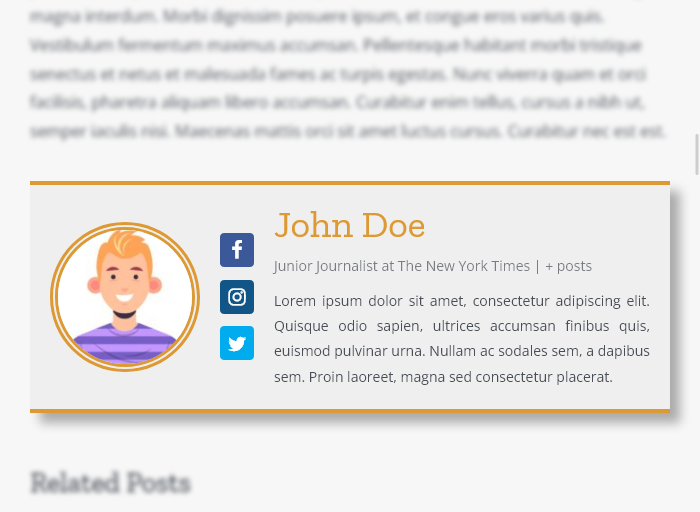 It's like having an "About The Author" on every post you publish in your WordPress site. And that's really an important information to provide! Seeing an actual person behind the content helps build credibility and strengthens your site's authority among users.
Specially for multi-author WordPress sites, you need to add an author box below each post. This helps your users learn more about individual authors on your website. And it also provides authors an additional incentive to contribute more often and interact with readers.
If you want more users to submit content to your blog, then the author box is a great way to attract writers who are looking for exposure and new audiences.
Some WordPress themes allow you to display author bio using the default WordPress functionality. However, many others may not have this feature built-in, or it is a feature poor solution.
The Molongui Authorship plugin helps you to properly credit your authors and one-time contributors for their work. Their profile information can be automatically displayed either above or below their posts in a fancy author box.
Molongui Authorship allows you to add as much information about the author as you need: name, picture, personal link, job title, company, company link, social media links, bio… even choose whether to show related posts from that author to increase page views and session duration.
Each author can have a different set of social media profiles added. Just choose from more than 90 social networks: Twitter, Facebook, LinkedIn, YouTube, Pinterest, Tumblr, Instagram, Vk, Flickr, Vine, Meetup, Sina-weibo, Deviantart, Stumbleupon, Myspace, Mixi, SoundCloud, Last.fm, Foursquare, Vimeo, Spotify, GitHub, CodePen… Check out the complete list here.
You can fully customize the author box —colors, sizes, effects, shapes and many other styles— to make it look sexy and fit your site appearance. Many author box layouts to choose from with structured data to help search engines to index your content better and present it more prominently in search results.
The Molongui Authorship plugin provides you a feature rich solution to automatically add a fully customizable author box in your WordPress blog.