Display Author Information in a Fully Customizable Author Bio Box
Add a customizable responsive author box anywhere on your site, showing the author name, avatar, description, and much more.
Different Layouts to Choose From
With multiple layouts to choose from, we're sure you will want to make Molongui Authorship your WordPress Author Box plugin!
Three different layouts, eight different variations, infinite combinations.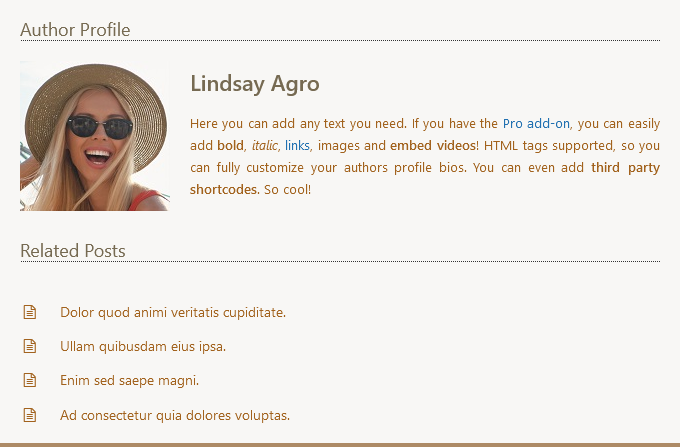 Keep scrolling down to see some examples of awesome designs you can make with Molongui Authorship.
With Molongui Authorship you get unlimited possibilities to customize the look of your author box. All these things you can easily customize with just few clicks:
You can do almost anything you can imagine. Endless possibilities, check below just a few examples:
Design crazy things like making the author box look like a minimal byline.

And best of all, customizing your author box is as easy as 1-2-3 thanks to the included Author Box Editor.
Customize your author box with our Author Box Editor and watch changes happen on-screen, right before your eyes.
Configure what author information to display, the author box layout and placement, colors, sizes, styles and much more. Easy and hassle-free!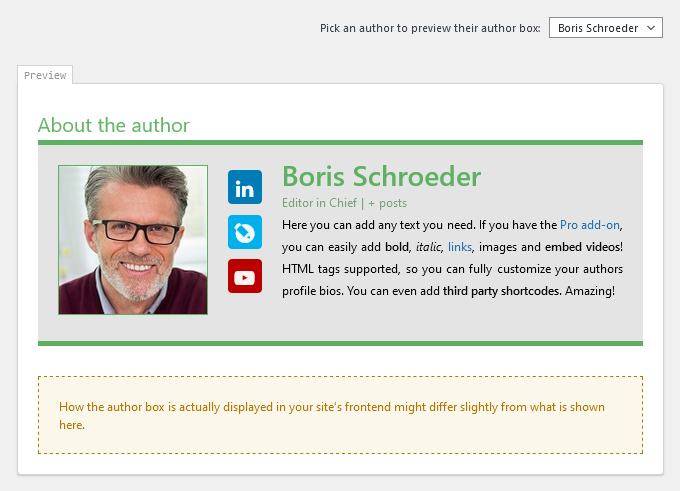 Choose the Content to Show
Author information like name, bio, avatar, job position, company, website, social links and more are toggleable, you can decide which ones to show on your author boxes.
You can even choose whether to display full, short or no bio at all. And upload a custom image as author avatar.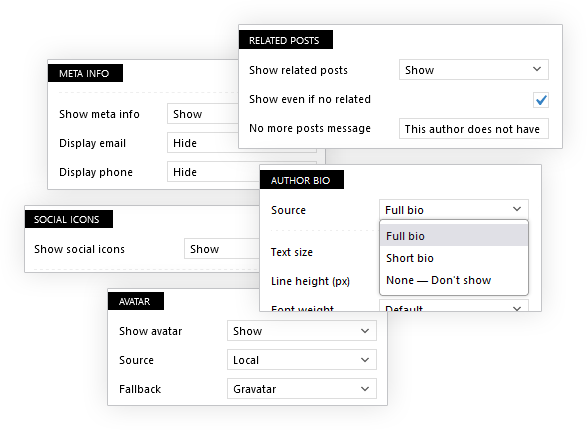 By default, the author box is automatically displayed on every post of your site. Just below the post content. But Molongui Authorship allows you to easily and conveniently change this behavior with the provided advanced display settings.
You can configure the plugin to hide the author box when there is no author bio to show. Or hide it on some post categories. You can also choose on which post types it should be displayed and disable it on a per post or author basis.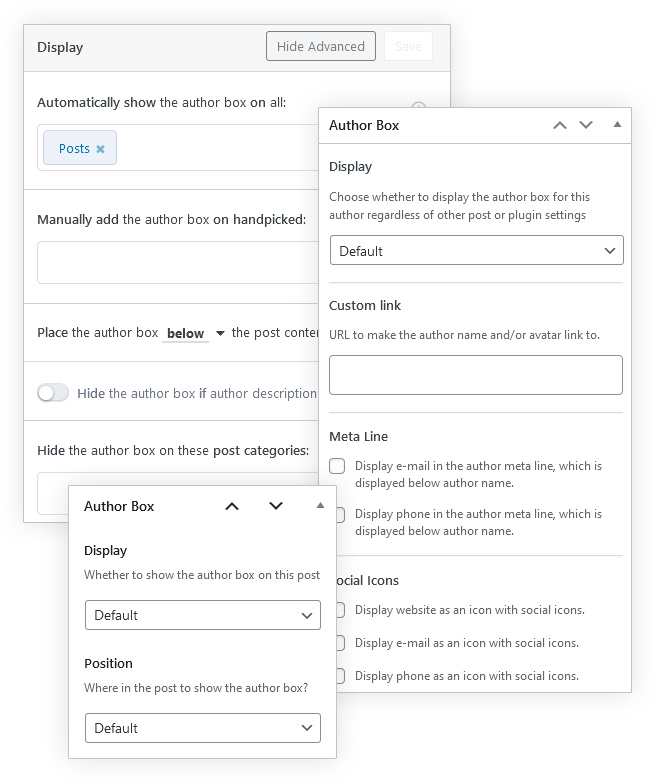 Optionally display a heading above your author box. Maybe the well-known "About the author" or "More about the author".
Schema.org-based structured data, nofollow links and HTML tag selection to match your SEO strategy.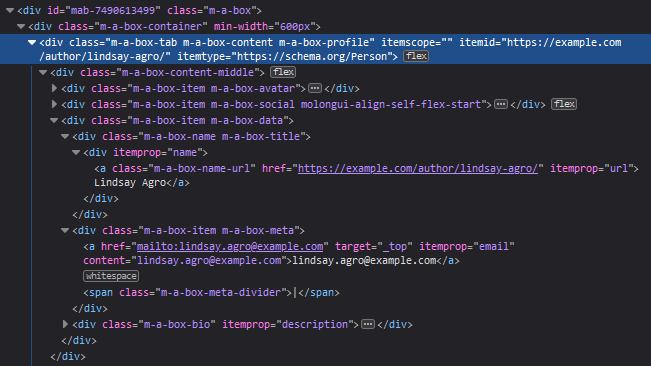 Not only can you display the author box on WordPress posts and pages, but also on any other WordPress Custom Post Type —articles, projects, courses, lessons, recipes, webinars…

3rd Party Shortcode Support
Display any third-party content within the author box. Just place the shortcode into the author's bio. That easy!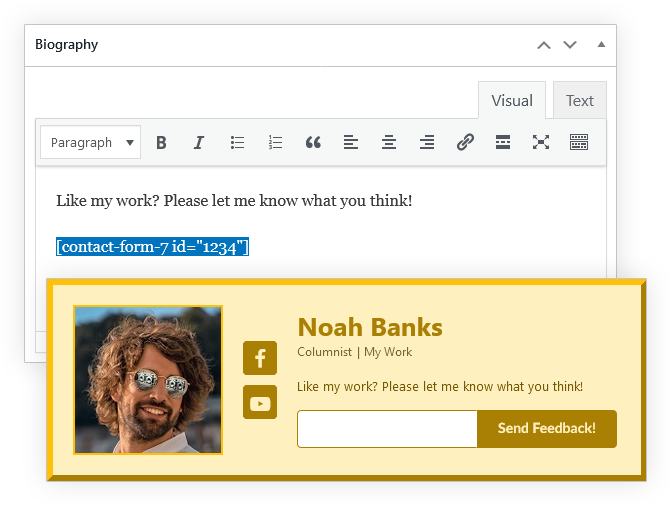 Display an author box anywhere your design requires —sidebar, footer, author page, anywhere. As easy as a shortcode, yet highly flexible and customizable.

The author box displayed via shortcode gets the sytling settings from the ones configured on the Author Box Editor, but those settings can be easily overridden using shortcode's attributes. Get to know all the in and outs of this shortcode in our documentation.
The Custom CSS option allows you further customize the layout and appearance of your author box when available customization options are not enough.
Go nuts and design an author box that stands out!
Why Choose Molongui Author Box?
With Molongui Authorship, displaying an author box on your posts is automatic, conditional display is available, customization is simple, and support for guest and co-authors is guaranteed.
Check below which Author Box features are only available in the premium version of the plugin.
Translatable and Customizable Strings
Guest & Co-authors Support
Post Category Conditional Display
Encode sensitive data to avoid SPAM bots
Advanced Settings for Related Posts
Third Party Shortcodes Support
Molongui Authorship Is the Best WordPress Author Box Plugin
Author Box by Molongui provides awesome features. And knowing it is fully compatible with the guest and co-authors functionalities makes it even more awesome!